Boston graffiti has a history that isn't as acknowledged or as well-documented as some other cities.  Sure writers have come and hit the city hard, but what about the locals? Throughout all of the interviews i have sent out and received, no one from the home team was as willing to step up to the plate and represent the "city of champions" then BACK. Here are the words from the man himself. Enjoy!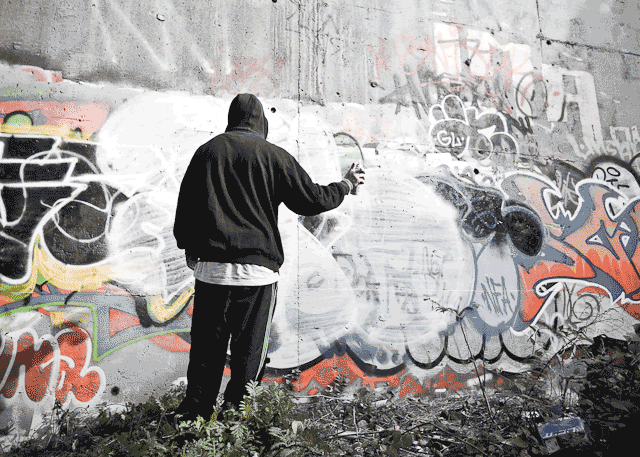 Where you from and what do you write?
BOSSton MA. Back NVS DBM RB Control SA AX
How did you start vandalizing and what compels you to continue? 
My first act of graffiti that i can think of was when i was about 7 or 8. I stole a thing of white out and put my initials on the back side of the apartment complex i was living in. The thing that compels me to continue is the passion and addiction that is in my blood.
Has your reason for writing changed at all?
Oh for sure. When i was younger i didn't even realize that it was graffiti, I was just being a rebellious young punk getting my rocks off by seeing my name on everything. Then i saw all the graffiti along the train line near my house and fell in love .Well that and seeing my first graff mag.
How would you describe your style?
I've always thought of my stuff as a East Coast Boston/New York type of style. I'm all about that simple, right in your face, no denying what it says type of shit.
Have you always wrote…
I was messing with tags as a young kid till about 1995 thats when i started writing "BACK"
What made you agree to this interview ?
To be honest, I feel it's just mine time so I'm gonna share my thoughts with the culture i love.
Who were you influenced by when you started out?
First and for most Relm SA Control. Ryze, Rems, Case, Perl, Alert, Ces, JA, West, Kaws.
What writers influence you today?
When I started it was only the graff i saw in person from boston and visiting fam in NY. Nowadays with the internet it has grown. I'm really feeling the dedication from cats like Adek, Nekst, Jurne, Rime, Chuck, Zek, Sen2.
What makes a writers stand out to you?
A writer that is about his crew and doesn't take any shit.
Have you ever caught a charge for painting?
Oh fuck yeah. i don't know any writers that have been writing for 10+ years that don't have at least some type of graff charge. Comes with the lifestyle.
What are you most known for/what do you want to be remembered for?
I guess it depends on who you ask.The ones close to mewould say I'm about my crew. If you ask the ones on the outside they might say I'm a hot head. I'm only like that if you think you gonna rag some shit or just go over whatever you want. Then for sure you will know who I am because i'll slap some throws over everything. FACT. I honestly want to be remembered for being a dedicated writer and having a spine, because 75% of writers nowadays are some pussies that are hiding in there fantasy world.
Where's the most interesting place you've painted and why?
This spot in miami that cynic took me to. There was all kinds of hot spanish chicks  stopping by all day and anyone that knows me knows i love the ladies.
What's been the biggest influence on your work over the last year?
This past year i have been through some life changing things, whats influencing me now is that graff is still there for me even through all the loss in my life.
Weirdest thing that has happened when out painting?
Besides the shit load of chases, the weirdest would be when i was 14/15. We stashed these stolen bikes in the bushes and hit this little trackside when we came back this dude was banging his girl in the car and they parked near the bikes so we watched like the lil teenage pervs that we were and when they left we grabbed the bikes and laughed all the way home.
Do you find you do better pieces depending on who you painting with?
100%. Depending on my surroundings and mind state, i know that i paint better. when im with crew and people i like kickin it with i paint some of my favorite shit.
Favorite Cities/places? 
BOS,NYC,MIA
Any upcoming collaborations/releases people should be watching for?
i have been in the process for a few years working on a clothing line and its time to take it to the next level. Check out the blog!
Favorite letters?
B,A,C to the mother fuckin K.
Favorite food?
Women, i mean lobster and pasta
Any graff-related injuries?  
Barbwire through the hands a few time, tweaked ankles you know, the norm for a writer.
What plans do you have for the future?
Continue to live life and do the things i enjoying doing. and traveling.
Give some shouts!
HARE ETIPS TOMB SNAZO JUS SWERVE TURN FONSE CHILE TURDL VAST RELM TEMP AKEY  ZIEG PATS BDUB IKUE KOPH JAERO MR BEE OPIATE RJAY NEST BEAN SPRE YNOT
RIP DELIC TEAZ NUMONE