Today we learn about the Cayman Islands as well as model Selita Ebanks, a Victoria's Secret Angel who is from there.
From Wikipedia:
The Cayman Islands were sighted by Christopher Columbus, on 10 May 1503 on his fourth and final voyage to the New World. He named them Las Tortugas after the numerous sea turtles there. The first recorded English visitor to the islands was Sir Francis Drake, who landed there in 1586 and named them the Cayman Islands after caiman, the Neo-Taino nations' term for alligator.
The Cayman Islands is the 5th largest banking center in the world thanks to being one of the world's biggest tax shelters. I would tell you more about that but I haven't made my first billion yet. As you can see the Cayman Islands are tiny and located south of Miami and Cuba.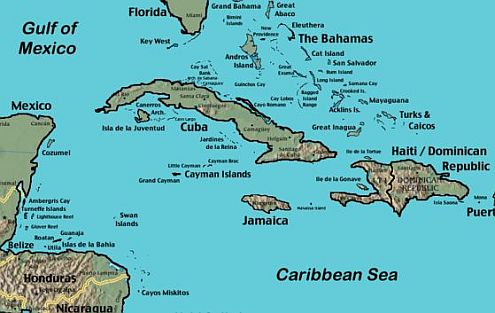 Selita is a 26-year-old model from the Cayman Islands. Once she was engaged to Nick Cannon, (don't blame her, everyone loves Nick Cannon!) and she appeared on the 3rd season of Celebrity Apprentice. I know, this bio isn't the best, but have no fear, beautiful women never end up homeless. There's always someone willing to take them in…
See why?
Gentlemen, a round of applause for the Cayman Islands please…
Bonus!